20 Oct

Walk It Off
Kristi Moorman:
"Our Afternoon Walks are getting more dangerous. We now have FOUR flying objects.
"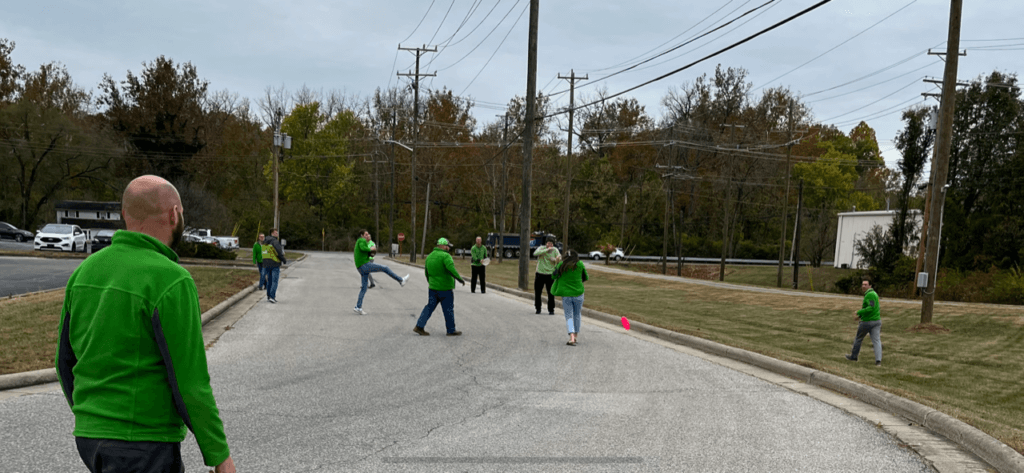 Most afternoons, a good portion of the Loveland office takes an official Walk down the road to the mailbox to gather the day's mail, get some fresh air, and… throw things.
The Afternoon Walk originated as a stationary "recess" in a detention basin, and has grown to a moving cloud of footballs and frisbees, all buzzing about as the group travels on foot along the low-traffic road. As they walk, you might hear "What project are you working on today?" followed by "GO DEEP ADAM!" Another 30 yards and it's "How are the kids doing?" paired with "HEAD'S UP JACQUI!" And before they head back in the door, it might be "What's up for the weekend?" before an "OOPS! SORRY SCHMIDTY!" as a few last second tosses finish the outing.
Although Choice One was founded in 1994, our Loveland office has been adding "ballers" since 2011, and 22 of our current 69 employees call the Loveland office home. So if everyone in Loveland takes the Afternoon Walk, that's about five people per "flying object." So Kristi, hope that makes you feel like you're in less danger. To keep safe, just don't let the Afternoon Walk get crossed with Sledgehammer Putt-Putt…