21 Dec

No Lift No Gift
Ryan Francis:
"Someone did a pretty good job photo-shopping a bicep onto Dan's arm."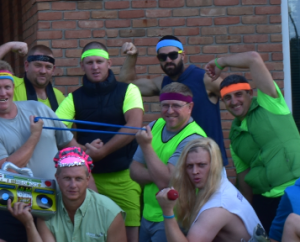 If you aren't sure, that's Dan in the sunglasses and blue headband, buying tickets to the gun show during Choice One's Christmas card photo shoot. Dan, we're fairly confident that your bicep (and therefore rest of the photo) is NOT legit, because we're absolutely positive Jeff Puthoff would never be caught in a hot pink sequined hat in real life.
If you missed it, this Christmas card photo (and the full version here) speaks volumes, both in 80s hair and old school boom-box beats. From the spandex to the neon, we took Christmas to a new, totally rad level of ridiculousness by "pa-rum-pum-pum-PUMPING" up the ante on outrageous Choice One Christmas photos. (We had to out-do Cousin Eddie from last year.)
We do truly hope that our card, and the Christmas wishes that come with it, brightened your holiday season. From all of us at Choice One, may your holiday be pa-rum-pum-pum-pumped full of merry and glowing fluorescent bright!