06 Apr

Why Me?
"The real question is, 'sometimes $#!% happens, but why does it always happen to Ryan Francis?'"

-Tony Schroeder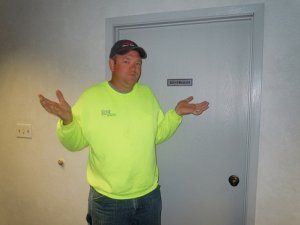 For some reason, Field Surveyor Ryan Francis seems to regularly be the victim of bad luck, accidents, and embarrassment here at Choice One. For instance, he has:

Backed a survey truck into a power pole. In the middle of a 50-acre field.
Routinely gotten the survey truck stuck on job sites.
Broken the back door window out of a truck when he "opened the back door and did not see another guy standing there holding a sledge hammer over his shoulder."
Dropped his cell phone in a manhole.
Had a survey instrument and tripod blow over in heavy wind.
You get the point.
Luckily, he has broad shoulders (both literally and figuratively), so he generally takes all the ribbing he gets in stride. Unless he's hungry. Then, by all means, stay out of his way.
When something bad happens, it's easy to ask "Why me?" and feel gloom and doom about whatever predicament is at hand. But there's another option: to look at each bit of adversity as an opportunity to learn, improve, and/or try again.
Granted, when unfortunate stuff happens to Ryan, there may not always be an obvious lesson for Ryan to learn, like "measure twice, cut once," or "wait 30 minutes after eating to swim." But it does give him the opportunity to learn to laugh at himself (which he always does), no matter how unlucky he is. And it gives the rest of us here (and now you, as well) the opportunity to laugh at him…er, laugh with him… too.
We just hope his abundance of misfortunes come to an end. For his sake AND ours.