11 Aug

Noted
Megan Bornhorst:
"I ❤ MJH *Try really hard not to punch him."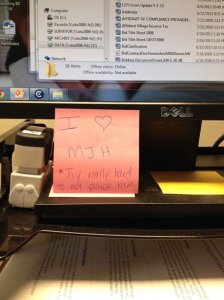 Megan once used this physical note to reminder herself that "MJH" (Matt Hoying) is still loveable, even when teases her about things like using paper to go paperless. Hey, sometimes it takes a reminder to break habits.
There are a few of us with notes referencing the digital RGB color mix for Choice One Green (R=130, G=188, B=0 in case you want the secret recipe).
Field Surveyor Jim Niergarth has a post it that reads "leave the keys," reminding him to leave the survey truck keys at the office when he goes home. Forgetful Zach should stop reading others' Post-Its.
Brittany Clinehens once had the note "Jeff Kunk = Survey," reminding 2010, new-to-Choice-One Brittany who took survey/staking calls (which was Jeff back then). Now our survey schedule managers are Ryan and Jesse, which gives us the equation "Jeff Kunk = Ryan Francis + Jesse Waggoner." Not sure whose feelings that equation hurts the most…
Our Post-Its definitely indicate our priorities around here. And we would argue that many are truly essential—like Jonathan Whitesell's: "Make sure you laugh at Jeff Puthoff's jokes. They probably won't be funny, but it will make him happy!" Reminders break habits, indeed!