12 May

Licensed
Nick Selhorst:
"Michael found out he passed his P.E. on Friday morning so he hung up his "certificate" in Loveland."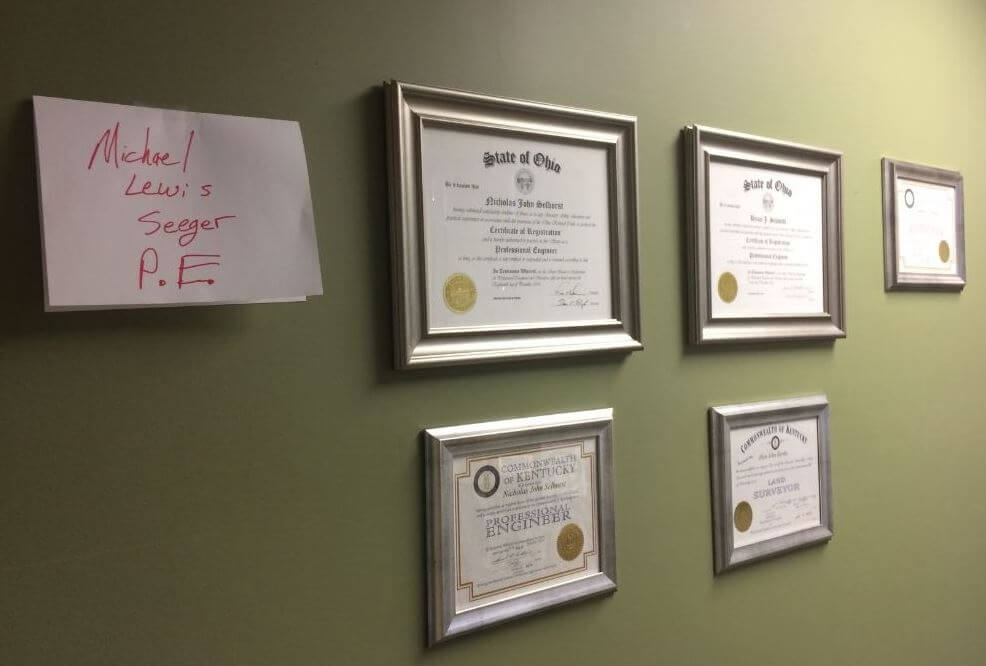 It may seem like just a sheet of paper, but to an engineer like Michael, passing the Professional Engineer (P.E.) exam and achieving licensure is a big deal. That piece of thicker-than-average paper means he has spent years preparing for a career in a glamorous field such as pavement analysis, water distribution modeling, or sewage pumping.
Obtaining a Professional Engineer's license is a lengthy process. First, one spends five-ish years as an undergrad studying engineering. Indeed, some poor saps around here even suffered through this at the University of Dayton or the University of Toledo. Then one must spend four years under the tutelage of other Professional Engineers. Just imagine–four painful years under the scrutiny of uber-nerds like Matt, Tony, and Jeff Puthoff! Then, finally, one must pass an eight-hour P.E. test (and to get an engineer to think about engineering for ONLY eight hours at a time is a real feat…)
We could joke that we at Choice One also have a few other P.E.s besides our engineers around here (like Pizza Estimator Matt, Penny Economist Allen Bertke, or Pocket Eliminator Brittany). But we know it takes hard work to become a real licensed Professional Engineer. So here's to Michael and all of the other P.E.s. Without you we'd still have gravel roads, no water pressure, and, yep… outhouses.