27 Dec

Free Hugs
"Can I get a gift receipt for this, Megan? I'd like to return it."

– Wes Goubeaux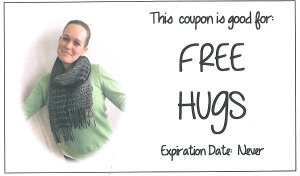 This year, during the Choice One Engineering Christmas party, we were all so fortunate to receive the gift voucher above. Since we all LOVE hugs so much, Megan wanted to make sure that we all knew her arms are open for hugs whenever, wherever.
Based on the typical subjects of our Choice Mindsets (which are just the tip of the silliness iceberg here at Choice One) you can probably guess that there were a lot of ridiculous gifts passed out this year. Jeff Puthoff finally received the purple sport coat he's been dreaming of (to dress up with all of those green shirts he wears to Christmas mass). Mitch received a children's toy car and road signage play set, to help visualize his traffic studies and plot out his arguments with Matt. And Jeff Kunk received a single doughnut, since he clearly has a hard time finding them in the grocery store, seeing as he hasn't bought doughnuts for the company in 20 years.
With all of these awesome gifts, it's no surprise that Wes was disappointed with a lousy free hug coupon. Which begs the question: what is the cash value of unlimited hugs from Megan? $1.76? Maybe $2.05?
Happy New Year from everyone at Choice One Engineering!