12 Aug

Five Ring Circus
Brittany Clinehens:
"If you do anything today, please watch the video of Kyle Siegrist."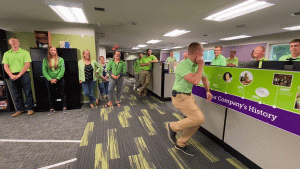 To celebrate the recent Summer Olympics, Choice One held a cotton ball shotput contest complete with super official measurements and prizes as extravagant as bragging rights. While Kyle didn't win with his mediocre distance, he certainly won "recognition" for an impressive throwing style.
The Olympics are always a fun topic to discuss at Choice One. Our conversations revolve around things like "How does the scoring in fencing work?" "What kind of BMX bike trick is 'The Truck Driver 4000?'" and "How do water polo players tread water for that long? I would most certainly drown." We cheered, we laughed, we talked about obscure sports like equestrian dressage, artistic swimming, and speed-walking. And when it was over, we got back to discussing regular, everyday stuff like European Tram Driving and Killer Whale Riding.
Perhaps with a little more practice we'll see Kyle in a future Olympics, throwing a 16-pound shot put instead of a 0.5-gram cotton ball. Kyle, if you're as dedicated to the shotput as you are to trying to prove Allen Bertke wrong by at standing at your desk, we're sure you'll win gold!