Kaye Borchers:
"I'm already practicing writing 'Frizz' in my mind."
It's Christmas card signing time again, and surveyor Craig Frilling thought of switching things up this year and signing his nickname "Frizz" instead of "Craig" on the COEC Christmas card. Sounds like a simple thing to do, but when you're signing your name 1,000 times, it's important to pick the simplest, shortest version (to hurry along this most anticipated task) and internalize it for great speed and accuracy.
If you're new to the world of Choice One, you're likely to find that we have a few unexpected traditions. Yes, every single one of us hand-signs every Christmas card we send. (If you missed the card this year, it's worth checking out 
here
.) New employees are required to 
buy doughnuts
 with their first paycheck. We 
don't have bosses
–although we use Bosses' Day an excuse to eat 
pie
. And we have a tireless, long-standing tradition of giving each other a hard time evidenced by this: the official 200th Mindset!
Frizz, we don't want you to spend too much effort working on your new signature. Especially since "Craig" and "Frizz" technically have the same number of letters if you didn't notice. Besides, you'll get PLENTY of practice signing your nickname 1,000 times next year.
Kaye Borchers:
"I think Kecia and Kyle should "race" down the hall."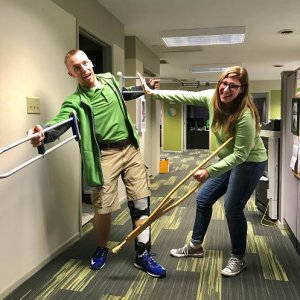 We're not sure who's going to win this crutch-assisted footrace down the Sidney office's hallway: Kyle on a newly repaired knee, or Kecia on a newly repaired ankle. Whether there will be post-race repairs needed to their pride remains to be seen.
We're pretty competitive around here, in case you haven't noticed. Mitch has been deemed faster than electricity (but not the tallest). Andy is typically competing for the first snacks. Mike G. is the first to the thermostat. And if you missed the Loveland Charity Cup two weeks back, you can witness the highlight video featuring our typical, ultra-competitive nature (not to mention our obvious need for speed!).
We hate to see anyone injured, but if these two would knock each other down, perhaps it will knock some sense into them. Plus, if Kyle and Kecia are on the ground, the rest of us have a better chance of winning whatever it is we're racing towards!