25 Aug

Versatility
Troy Niese:
"Congrats on the Nobel Prize, Schmidty! Can't believe I had to read about this at home instead of hearing all about it from you."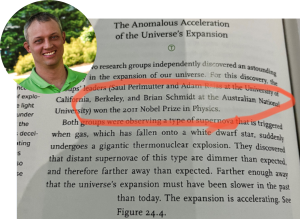 We've had a few people here at Choice One Engineering win an award a time or two—indeed, Choice One itself was recently named the #1 Small Dayton Business Journal "Best Place to Work" and the Zweig "Best Civil Firm to Work For" in the nation. But a Nobel Prize in Physics?! Things are getting serious now.
We shouldn't be surprised that a "Brian Schmidt" has won a Nobel Prize. When our Brian Schmidt introduces himself to new employees and explains his position at Choice One, he says he does "pretty much anything around here"—from box culvert design to taking out the trash. One might say he does "everything under the sun," except that wouldn't be true, because his capabilities go far beyond the sun: he is apparently making discoveries at the edges of the known universe.
Congrats, "Brian Schmidt." Keep making strides forward in supernovae, combined sewer separation, and flying pest control. To celebrate your 2011 Nobel Prize, we'll get Dane to order a plaque or something.
(P.S. Know a civil engineer interested in a "Best Place/Firm to Work"? Send them to our careers page!)